Antikor NGFW Centralized Management

Antikor NGFW Centralized Management
Antikor v2 Unfied Cyber Security System Next Generation Firewall (NGFW) Centralized Management System is a Turkish national product that provides centrally management of all Antikor NGFWs for enterprise networks with enhanced management functions. Centrally monitoring and management becomes easy with flexible configuration, live dashboard and enhanced profile capabilities.
To see the product models Click here
grid-3-2
Centralized Management
You can connect all your Antikor NGFW Firewalls to your Central Management System. The communication of all Antikor you connect is Encrypted with IPsec Tunnel. You can Encrypt with different IPsec Profile for each Antikor NGFW you manage. Managed Antikor also provides the opportunity to follow the Alerts (Disc, Processor, Ram etc.) and Notifications of NGFWs from a single screen. If necessary, Antikor on the side also manages NGFWs remotely.

Profile Support
Thanks to Profile Support, the Central Management System manages multiple security policies under the name "Profile". Managed Antikor NGFWs can be subscribed to more than one profile. Thus, all managed systems can be included in the general security profile, and customized security profiles and regional settings can be applied. Different rules can be printed on each profile.

Collective Policy Management
NGFW Central Management System with Collective Policy Management, your corporate security policy, Antikor you manage It applies to New Generation Firewalls in bulk. The ruler on the side cannot inactivate, alter or remove the mass polices printed from the center. Monitor Managed Antikor NGFWs on the Map Displays the accessibility status of your managed tips from a single screen.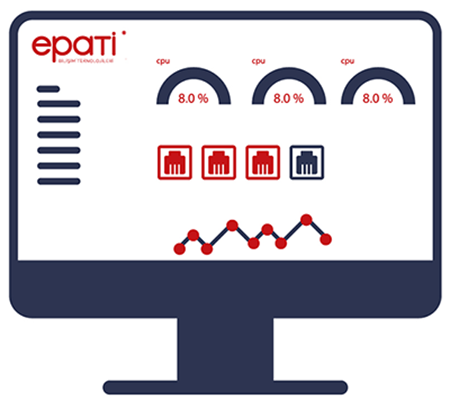 User Friendly Easy-to-Use Interface
It is very easy to use with HTML5 and Bootstrap based responsive interface. With its modern design, with its intuitive, user-friendly interface that is easy on the eye, Antikor Central Management System both simplifies the management and logs the Administrative Interventions on the side.
Batch Configuration Backup
It periodically collects all the configuration backups of Antikor NGFW Firewalls connected to it from the center. In case of need, this backup can be uploaded separately to Antiikor NGFW, which can be purchased individually.
Bulk Release Tracking
It performs Bulk Version Tracking and Updates of all Antikor NGFW Firewalls connected to it from the center. Shows Antikor NGFW Firewalls that remain in the old version and are not updated.
Antikor NGFW Central Management System Models and Product Details
| # | Model No | Product Name | Links |
| --- | --- | --- | --- |
| 1 | EPA-CFWM-5-TR | EPA-CFWM-5-TR Antikor NGFW Centralized Management | Datasheet |
| 2 | EPA-CFWM-25-TR | EPA-CFWM-25-TR Antikor NGFW Centralized Management | Datasheet |
| 3 | EPA-CFWM-50-TR | EPA-CFWM-50-TR Antikor NGFW Centralized Management | Datasheet |
| 4 | EPA-CFWM-100-TR | EPA-CFWM-100-TR Antikor NGFW Centralized Management | Datasheet |
| 5 | EPA-CFWM-250-TR | EPA-CFWM-250-TR Antikor NGFW Centralized Management | Datasheet |
| 6 | EPA-CFWM-500-TR | EPA-CFWM-500-TR Antikor NGFW Centralized Management | Datasheet |
| 7 | EPA-CFWM-K1-TR | EPA-CFWM-K1-TR Antikor NGFW Centralized Management | Datasheet |
| 8 | EPA-CFWM-SZ-TR | EPA-CFWM-SZ-TR Antikor NGFW Centralized Management | Datasheet |